Cincinnati Public Schools: A Head Start Delegate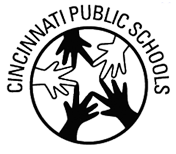 Cincinnati Public Schools is committed to providing a quality Early Childhood program for 3 & 4 year old students in our school district. The Department of Early Childhood Education offers an array of educational settings for preschool-aged children to help ensure that all children who enter kindergarten are prepared and ready to learn. All classrooms are taught by highly qualified licensed teachers who have specialized training in early childhood development. Classroom curriculum is based upon the 'Ohio Early Learning Content Standards'.
Children who attend preschool gain new skills, make friends and have a variety of enriching experiences. CPS' Early Childhood Education (ECE) program recognizes that all children can learn, mainly through playful interactions with materials and people. The learning environment encourages creative exploration with a balance of child- and adult-initiated, age-appropriate activities. The program also recognizes the home and community as valuable resources.
Visit the Cincinnati Public Schools website  
---
CAA Head Start Locations
1908 E Seymour Ave, Cincinnati, OH 45237

2030 Fairfax Ave, Cincinnati, OH 45207

1510 California Ave, Cincinnati, OH 45237

4323 Glenway Ave, Cincinnati, OH 45205

125 W. North Bend Road, 45216

4151 Turrill St, Cincinnati, OH 45223

4040 Harrison Ave, Cincinnati, OH 45211

2627 Park Ave, Cincinnati, OH 45206

1930 Fricke Rd, Cincinnati, OH 45225

1835 Fairfax Ave, Cincinnati, OH 45207

1030 Cutter St, Cincinnati, OH 45203

2700 Felicity Place, Cincinnati, OH 45211

5051 Anderson Pl, Cincinnati, OH 45227

3156 Glenmore Ave, Cincinnati, OH 45211

5730 Colerain Ave, Cincinnati, OH 45239

1730 Mears Ave, Cincinnati, OH 45230

2121 Hatmaker St, Cincinnati, OH 45204

1350 W North Bend Rd, Cincinnati, OH 45224

1228 Considine Ave, Cincinnati, OH 45204

1702 Grand Ave, Cincinnati, OH 45214

335 Rockdale Ave, Cincinnati, OH 45229

2411 Baltimore Ave, Cincinnati, OH 45225

1594 Summit Rd, Cincinnati, OH 45237

241 E Clifton Ave, Cincinnati, OH 45202

6700 Home City Ave, Cincinnati, OH 45233

7451 Montgomery Rd, Silverton, OH 45236

636 Prospect Pl, Cincinnati, OH 45229

6530 W Bryn Mawr Ave, Chicago, IL 60631

5300 Winneste Ave, Cincinnati, OH 45232

3716 Woodford Rd, Cincinnati, OH 45213