Get Connected

Our EZCare Parent Portal allows our parents to easily set up and change payment methods as needed. With this self-service portal, parents can view payment history, set up and save payment methods, designate automatic payment accounts, and set invoice and receipt preferences. For instructions on how to register, log in and make payments via our the Parent Portal, please read our Parent Portal QuickStart Instructions [PDF].
---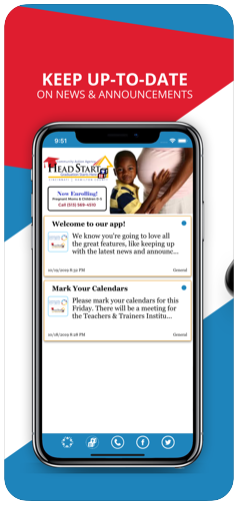 Get the Cincinnati Head Start App
The Cincinnati Headstart app by SchoolInfoApp enables parents, students, teachers and administrators to quickly access the resources, tools, news and information to stay connected and informed!
Key features:
- Important school and class news and announcements
- Interactive resources including event calendars, maps, staff directory and more
- Student tools including My ID, My Assignments, Hall Pass & Tip Line
- Language translation to more than 30 languages
- Quick access to online and social media resources
Download the App 
Select the buttons below to download the Cincinnati Head Start app on your smartphone or tablet.


---
ReadyRosie: A Parenting Curriculum for Today's Families
To assist our families with school readiness and parent involvement, Head Start is providing ReadyRosie FREE to our families with children ages birth to 5 years old. ReadyRosie is an early education tool that is designed to help schools and communities improve parent engagement by using videos and mobile technology to equip parents with the tools wherever they are.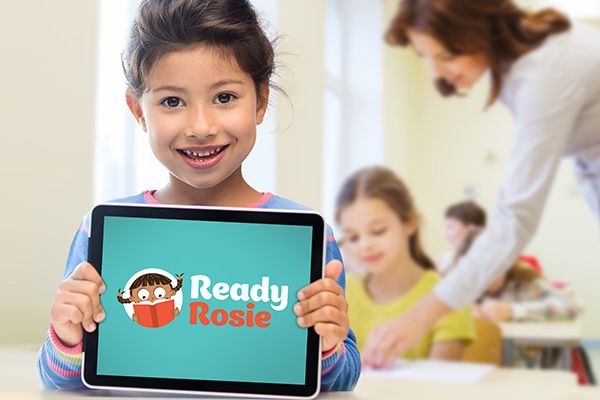 Parents can register free online at readyrosie.com/register, or by downloading the app below. You will receive text messages and videos to help engage your child in the real world. This extra learning time reinforces what Pre-K teachers are already teaching in schools.
ALL IT TAKES IS 2 MINUTES A DAY!
Here's how:
WATCH a quick daily video.
DO the interactive activity.
LEARN: both child and adult grow.
♦  QUICK & EASY DAILY ACTIVITIES TO DO WITH YOUR CHILD.
♦  EVERY ACTIVITY MODELED ON VIDEO IN ENGLISH & SPANISH.
♦  DELIVERED TO YOU VIA EMAIL AND/OR TEXT MESSAGE.
Access your FREE online subscription today! Just go to readyrosie.com/register to register or download ReadyRosie on your mobile phone or tablet below.


---
Take Time Out Tuesday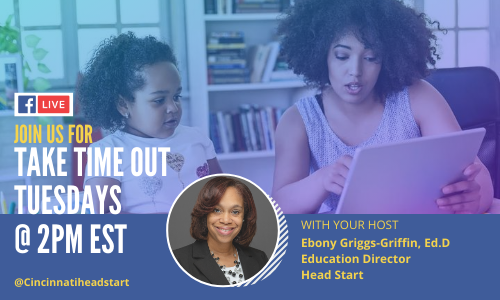 Join us EVERY TUESDAY at 2:00 PM EST on our Cincinnati Head Start Facebook page for Take Time Out Tuesday, where we discuss Head Start driven content geared toward Head Start parents. Our Head Start Education Director, Dr. Ebony Griggs-Griffin, moderates dialogue focused on strategies to help Head Start families.
---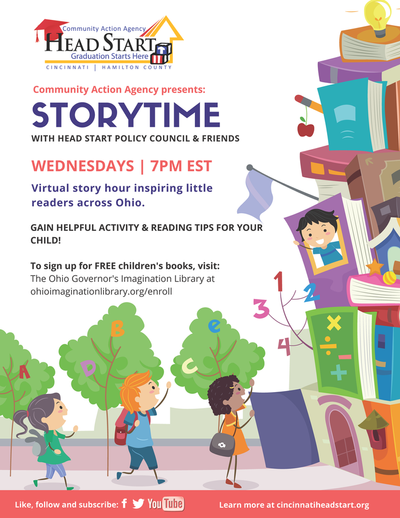 Storytime With Head Start Policy Council & Friends
To encourage early reading starting in the home and encouragement of family bonding, Community Action Agency of Cincinnati presents Storytime with Policy Council and Friends. Storytime is virtual story hour by Policy Council in conjunction with Ohio Governor's Imagination Library (OGIL), created to help inspire little readers across Ohio. Our virtual story hour will be every Wednesday at 7 p.m. We will read stories from the Imagination Library catalog and provide some helpful reading tips and information, like activities to relate to the stories.

The Ohio Governor's Imagination Library is a local affiliate of the Nation-wide Dolly Parton's Imagination Library program. In the program children are mailed one book every month until age 5 at no cost to parents. Visit ohioimaginationlibrary.org/enroll to learn more about Imagination Library and get your child signed up today!
 
Download Storytime PDF to share with family & friends!
---
Additional Parent Resources
Beech Acres Parenting Center | Foster Care, Kinship Care and Parent Enrichment Programming
Child Care Vouchers | Add or Change Childcare Provider (Report a Child Care Connection)
Cincinnati Preschool Promise Forms Library  | Preschool Promise Tuition Assistance for Child Care
Project Connect | For families experiencing homelessness