Family Engagement
What Are the Components of Head Start Family Engagement?
Family Services
Our Family Services Area works with families in goal setting through the family partnership agreement process, provides families with resource information, how to access community services, and has the responsibility of locating, identifying and maintaining funded enrollment as long as they qualify. The Family Service Assistance and Associate Teacher for Infant/Toddler serve as a link between the home and the school.
Community Partnerships
Head Start serves children and families in their communities. Through strong community partnerships, Head Start fosters collaboration, quality services and the development of a community that shares responsibilities for children and families.
Parent Involvement Services
Head Start recognizes parents as the prime educator of and nurturer of their child and our Head Start program makes every effort to include the parents in the decision making process. We count on parent volunteers to help us meet our goals.
---
Defining Family Engagement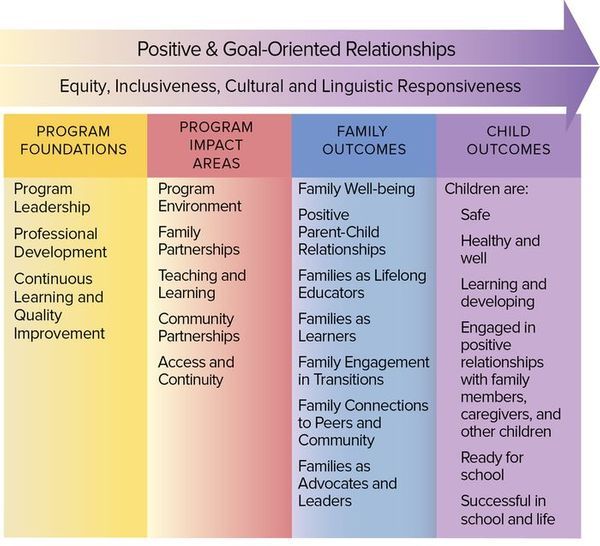 Head Start Parent, Family, and Community Engagement Framework
Family engagement is an interactive process through which program staff and families, family members, and their children build positive and goal-oriented relationships. It is a shared responsibility of families and professionals that requires mutual respect for the roles and strengths each has to offer. Family engagement means doing with—not doing to or for—families. At the program level, family engagement involves parents' engagement with their children and with staff as they work together toward the goals that families choose for themselves and their children. It also involves families and staff working toward goals to improve the program. Head Start and Early Head Start staff work together with families, other professionals, and community partners in ways that promote equity, inclusiveness, and cultural and linguistic responsiveness.
Children are at the heart of meaningful family engagement. They are the inspiration for positive, goal-oriented, parent-provider relationships.
Parents enter relationships with staff on their children's behalf, and they deepen these relationships with their children in mind. They know their children better than anyone—their temperaments, personalities, strengths, vulnerabilities, talents, and special needs. They know their own cultures and what they want to transmit to their children. When parents share their knowledge, they improve provider practices and program quality.
Head Start and Early Head Start staff create authentic partnerships with parents when they convey their eagerness to welcome parents' expertise and their readiness to share the care. Parents can believe in the partnership when they feel the passion providers share with them—for the quality of the child's everyday experiences, for supporting the parent-child relationship, and for laying the foundations early for a thriving future.
Download the PFCE Overview for Parents[PDF, 601KB].
For more information, email or call our Family Engagement Coordinator, Melanie Allen at (513) 569-1840 x 1422