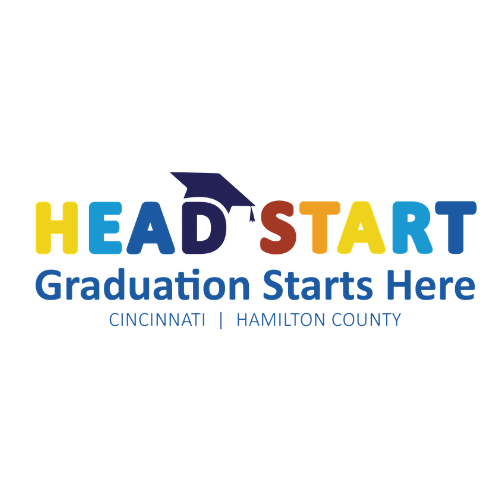 Head Start at Cincinnati Community Action Agency has a new look!
The overall branding goal was to distinguish the program with modern appeal, build recognition and stronger alignment to CAA.
A Community Relations and Head Start team worked alongside Cincinnati branding agency, Ellie Brands to bring our vision to life. Building on our already established visual storytelling materials and graphics toolkit, and with the help of Policy Council parents, we chose taglines, colors and elements that were true to Head Start. 
The refreshed logo is energetic and optimistic, and at the same time simple and easy to process visually. A diverse vibrant color set – mirroring the CAA brand - the signature graduation cap, and the familiar "Graduation Starts Here" phrase all work together to project the vitality of youth development and lifelong learning. We also added location information to the logo to more clearly identify ourselves in what can be a busy visual landscape as we think about the multiple messages we consume each day.
"As part of a strategic alliance/brand extension strategy, we wanted to make sure we also created a co-branded Head Start design that joined CAA and Head Start attributes together, combining market strength and brand awareness," explains Nikki Williams, Vice President of Community Relations and Chief of Staff, who helped lead the branding refresh.
Branding initiatives like this, in part, help organizations move forward – cultivating and reinforcing the authenticity, engagement and positive associations people develop based on the mission and impact.
CAA staff and clients will begin to see the new logo and collateral materials take root online, in print, in promotional items and even out and about in the community in eye-catching and creative ways. We are excited to showcase our new logo on our marketing collateral (eg. promotional flyers, posters, etc.) and other swag items coming soon, like t-shirts, backpacks, keychains, signage and more! 
Take a look around and you will see the new logo on the Head Start website (cincinnatiheadstart.org), and our Head Start social media platforms (Facebook & Twitter) which also feature our brand new logo!